Product
Hollow Shaft Worm Gear Motor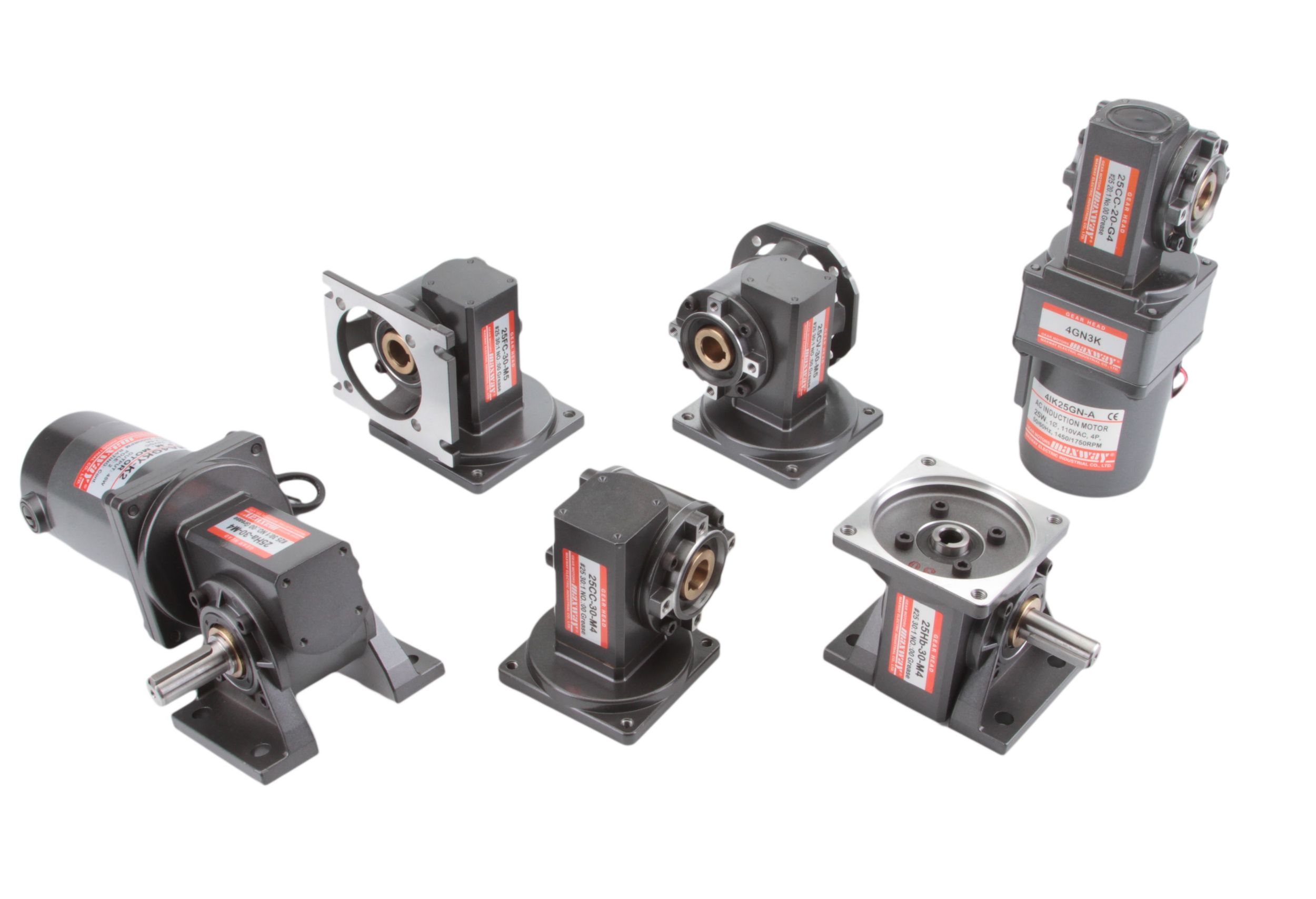 Hollow Shaft Worm Gear Motor w/Speed Control and Drive
Product ID: 25 & 35
This series is Hollow Shaft Worm Gear Reducer, can be extra an output shaft.
Could be connected with many kind of motors, such as AC Motor, DC Motor, and Brushless DC Motor.
Mono-block processing of hollow shaft, hi working load, highly safe.
Can be horizontal or vertical to install, and to turn into the others.
Output Shaft: Either of Single Shaft or Dual Shaft.
Gear Ratio: 5:1~60:1, 15:1~10800:1 (could be connected with Gearboxes of 4GN,5GN & 5GX).
Housing: Aluminum-die casting.
Features:
These types can connect with AC/DC Motor, BLDC Motor and Gear Motors
Output Power of #25: 15W ~ 60W.
Output Power of #35: 60W ~ 200W.
The Ratio of Middle Gearbox: 3:1 ~ 180:1.
See more complete detail
| Model No. | Output Flange Type | Gear Ratio | Input flang Code | Input Flange Size | Hallow Shaft Dia. | Key | Max. Allowable Torque | Weight/kg | Fit Motor |
| --- | --- | --- | --- | --- | --- | --- | --- | --- | --- |
| 25 | CC, CF, FC, Ha, Hb | 5:1 ~ 60:1 | M3 | 70mm x 70mm | 15mm | 5 x 5 | 150kg-cm | 1.1 | 15W of AC/DC Motor |
| 25 | CC, CF, FC, Ha, Hb | 5:1 ~ 60:1 | M4 | 80mm x 80mm | 15mm | 5 x 5 | 150kg-cm | 1.1 | 25W of AC/DC/BLDC Motor |
| 25 | CC, CF, FC, Ha, Hb | 5:1 ~ 60:1 | M5 | 90mm x 90mm | 15mm | 5 x 5 | 150kg-cm | 1.1 | 40~100W AC/DC Motor |
| 25 | CC, CF, FC, Ha, Hb | 15:1 ~ 10800:1 | G3 | 70mm x 70mm | 15mm | 5 x 5 | 150kg-cm | 1.1 | 15W AC/DC Gear Motor |
| 25 | CC, CF, FC, Ha, Hb | 15:1 ~ 10800:1 | G4 | 80mm x 80mm | 15mm | 5 x 5 | 150kg-cm | 1.1 | 25W AC/DC Gear Motor |
| 35 | CC, CF, FC, Ha, Hb | 5:1 ~ 60:1 | M5 | 90mm x 90mm | 18mm | 5 x 5 | 300kg-cm | 2.0 | 60~200W AC/DC/BLDC Motor |
| 35 | CC, CF, FC, Ha, Hb | 15:1 ~ 10800:1 | G5 | 90mm x 90mm | 18mm | 5 x 5 | 300kg-cm | 2.0 | 60~100W AC/DC/BLDC Gear Motor |
Order Information:
Minimum Order: Depends
Reference Price: Depends
OEM/ODM Product, Branded Product, Buyer's Label Offered
FOB: Keelung Port of Taiwan