Product
Gear Reducer/Gear Head/Gearbox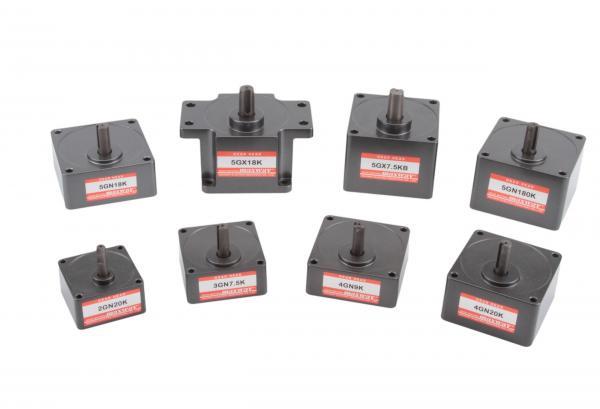 Product ID: 2GN( )K(B), 3GN( )K(B), 4GN( )K(B), 5GN( )K, 5GX( )K, 5GX( )KB
These series of reduction gear heads, have six different models: 2GN, 3GN, 4GN, 5GN, 5GU, 5GX, the range of reduction ratio are 1:3 to 1:1800. The maximum allowable torque is 250 kg/cm, and there are three types of workload:
(1) GN type is a light loading.
(2) GU type is a medium loading.
(3) GX type is a heavy loading.
You could choose the different type of torque depends on your demand, and you could use AC Motor or DC Motor or Brushless DC Motor to match the power then lower the speed and increase the effect of torque. Gear Reducer has two bearing to selection:
K: Means to use ball bearing. (Heavy Loading)
B: Means to use metal bearing. (Light Loading)
The details of model codes, ratio of reduce speed, and a list of torque, please see the table.
Specifications:
Model: 2GN, 3GN, 4GN, 5GN, 5GU, 5GX
A reducer's torque will rise proportionally with reduction ratio. But the gear material as well as some other factors may limit the torque. Please refer to the following chart for maximum allowable torque at different reduction ratios with each model. (It showed in the large photo)
Features:
See more complete detail
| Model | Dimension (L x W) | Fit Motors | Reduction Ratio | Max. Allowable Torque |
| --- | --- | --- | --- | --- |
| 2GN | 60mm x 60mm | 6W | 3~180 | 25kg-cm |
| 3GN | 70mm x 70mm | 15W | 3~180 | 50kg-cm |
| 4GN | 80mm x 80mm | 25W | 3~1,800 | 80kg-cm |
| 5GN | 90mm x 90mm | 40/60W | 3~1,800 | 100/150kg-cm |
| 5GX | 90mm x 90mm | 90/120W | 3~1,800 | 200/250kg-cm |
Order Information:
Minimum Order: Negotiable
OEM/ODM Product, Branded Product, Buyer's Label Offered
FOB: Taiwan