Product
D.C. Motor, Portable Bag Closer Motors, AC Commutator Motors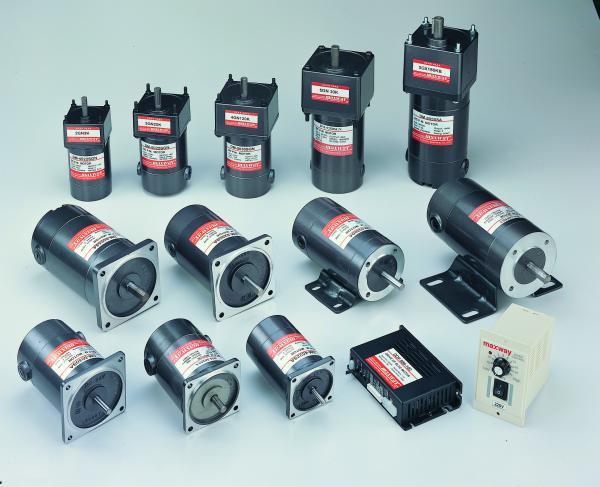 DC Motors/DC Gear Motors
Product ID: DM-4522, DM-5025, DM-5030, DM-5230, DM-5250, DM-6055, DM-6065, DM-6075, SM-73BP, SM-7338
This series of motors are: D.C. Motors, D.C. Reduction Gear Motors, A.C. Commutator Motors, Portable Bag Closer Motors, Speed Controller & Drives.
DC Motor:
DM series: This standard model has five styles, output 15W-250W, speed: 2,000RPM & 3,200RPM. Welcome to selection.
DS series: This is custom made item. The design can be changed according to the customer's damand in order to fit any powers on the machine or on the special machine of gearing. There are 900RPM to 6,000RPM of speed to selection.

DC Gear Reducer Motors:
There are five models, 15/25W, 25/40W, 30/50W, 60/100W, 100/150W. These models can be used on six kinds of reduction gear heads. They can lower the speed and increase the torque.
AC Commutator Motors:
It suitable for any machines of high speed, output: 100-150W, speed: 18,000RPM.
Portable Bag Close Machine Motors:
They are suitable for Japan, U.S.A., Taiwan and other countries who make the portable bag close machine.
The Above Motors: can be extra an electromagnetic brake or variable speed controller to make it as a break motor or variable speed motors.
Specifications:
Rated Voltage: 12, 24, 48, 90, 180VDC
Output Power: 15W~250W
Torque: 1kg-cm ~ 10kg-cm
Speed:

DC Motor: 900RPM~6000RPM
AC Commutator Motor: 8000RPM~18000RPM

Insulation Grade: Grade F (155 degree C)
DM Series: DM-4522, DM-5025, DM-5030, DM-5230, DM-5250, DM-6055, DM-6065
DS Series: Custom Made Item, used on many kinds of machine.
SM Series: SM-73BP, SM-7338 (Portable Bag Sewing Machine Motor)
FM Series: DC 4 Pole Motors
DM Series (Model of DC Gear Reducer Motors) showed in the table.
Features:
Both C.W. & C.C.W., high starting torque, compact in size, easy to control speed.
Samples are all available.
See more complete detail
| Model | Power | Speed | Flange Dimension (L x W) | Fit Gear Head | Output Shaft |
| --- | --- | --- | --- | --- | --- |
| DM-4522 | 12W/20W | 2000/3200RPM | 60mm x 60mm | 2GN | Cylinder & Screw Gear |
| DM-5025 | 15W/25W | 2000/3200RPM | 70mm x 70mm | 3GN | Cylinder & Screw Gear |
| DM-5030 | 25W/40W | 2000/3200RPM | 80mm x 80mm | 4GN | Cylinder & Screw Gear |
| DM-5230 | 30W/50W | 2000/3200RPM | 90mm x 90mm | 5GN | Cylinder & Screw Gear |
| DM-5250 | 60W/150W | 2000/3200RPM | 90mm x 90mm | 5GN/5GX | Cylinder & Screw Gear |
| DM-6055 | 100W/150W | 2000/3200RPM | 90mm x 90mm | 5GX | Cylinder & Screw Gear |
| DM-6065 | 150W/200W | 2000/3200RPM | 90mm x 90mm | 5GX | Cylinder & Screw Gear |
Order Information:
Minimum Order: Negotiable
Reference Price: Depends
OEM/ODM Product, Branded Product, Buyer's Label Offered
FOB: FOB Taiwan